Mearns farmer Doug Smith's life-long love of Simmental cattle set him thinking about  selling meat from Simmental-sired cattle direct to shoppers.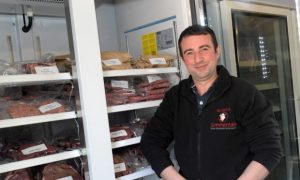 Mr Smith runs the well-known Drumsleed herd of pedigree Simmentals at Drumsleed, Fordoun, Laurencekirk, with his parents Gerald and Morag.
The family is well known on the show and sales circuit and now Doug, the fourth generation of the Smith family working the land at Drumsleed, has launched his own venture with a focus on selling top-quality beef direct to consumers.
Together with his wife Fiona, who runs the successful Spud Hut farm shop at the neighbouring Cairnton Farm, Mr Smith has plans to sell meat from some of Drumsleed's 130-cow herd of commercial cattle.
The commercial herd, which comprises cross Simmental, Salers and Shorthorn cattle, runs alongside the 100-cow pedigree herd.
"I'm a huge lover of the Simmental breed in general and the butcher that we are using said Simmentals produce a very good cut as well," said Mr Smith.
"It's something a bit different. Everybody usually goes for the native breeds but because we are Simmental breeders I wanted to use them."
He has teamed up with Forfar-based butcher and Aberdeen-Angus breeder, Alan Rennie, to launch the enterprise.